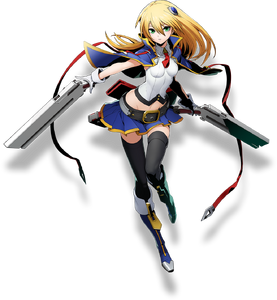 Noel Vermillion is a former lieutenant of the Novus Orbis Libirium who was assigned to return the AWOL Jin Kisaragi to his post. She is a playable character and the main heroine in the BlazBlue video game series.
In the Fiction Wrestling Multiverse, Vermillion is a professional wrestler signed to Women's Wrestling League, X-treme Crossover Federation (competing in their developmental territory Santa Destroy Wrestling), Ultimate Wrestling Entertainment  (competing in their developmental territory X-Treme Galaxy Wrestling), and Apex Caliber Wrestling (competing in their developmental territory APEX Underground).
Background
Edit
Series: BlazBlue
Species: Artificial human (Boundary Interface Prime Field Device)
Age: 5 (chronologically)
Height: 5'5"
Weight: 105 lbs.
Debut: July 2007
Status: Active
Billed from: 5th Hierarchical City of Ibukido
Allies: Sarah Ortiz (fiancée), Makoto Nanaya, Tsubaki Yayoi, Litchi Faye-Ling, Taokaka, Haruhi Suzumiya, Bonne Jenet, Princess Elise
Rivals: Eliza Hart, Samus Aran, Kari Kamiya
Twitter: @LoveSoBlue
Professional Wrestling Career
Edit
Women's Wrestling League Edit
X-treme Crossover Federation Edit
Santa Destroy Wrestling Edit
Ultimate Wrestling Entertainment Edit
X-Treme Galaxy Wrestling Edit
Apex Caliber Wrestling Edit
APEX Underground Edit
Personality
Edit
Personal Life
Edit
In Wrestling
Edit
Finishing moves
Edit
Azure Breaker (Arm-trap Crossface (WWL/SDW/XGW) / Cross-armed Crossface (AIW))
Valkyrie Veil (Rope-hung Snap Swinging Neckbreaker)
Signature moves
Edit
630° Senton
Arm-trap Argentine Leglock / Neckscissors combination
Airplane Spin transitioned into a Northern Lights Suplex
Bloom Trigger (Over-the-shoulder Facebuster)
Cobra Clutch Backbreaker followed by a Spin-out Cobra Clutch Slam
Diving Cross Armbar
Dragon Screw Legwhip
Frog Splash – adopted from Sarah Ortiz
Fujiwara Armbar, transitioned into a triangle choke
Guillotine Choke with bodyscissors
Hangman's Choke
Inverted Frankensteiner
Kneebar
Lotus Lock
Multiple kick variations

Bicycle
Enzuigiri, sometimes while springboarding
Legsweep
Running Corner Drop
Running Single Leg Drop to the leg of an opponent

Moonsault
Phoenix Splash, sometimes from the second rope
Reverse STO
Revolver Blast (Diving Bulldog)
Running Somersault Senton
Roll-up
Samoan Drop
Spring Raid (Suicide Dive)
Standing Moonsault, sometimes preceded by a handspring
STF
Straight Jacket, sometimes transitioned into a Double Knee Backbreaker
Tornado Inverted DDT
Managers
Edit
Makoto Nanaya
Tsubaki Yayoi
Nicknames
Edit
"(The) Eye of the Azure"
"Calamity Trigger"
"Successor of the Azure"
Entrance themes
Edit
"Love So Blue" by Kanako Kondou
Championships and Accomplishments
Edit
Women's Wrestling League Edit
WWL Championship (1 time)
WWL Television Championship (1 time)
WWL Tag Team Championship (2 times) – with Makoto Nanaya
Diva Rumble (2009)