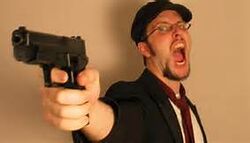 Douglas Darien "Doug" Walker
is an Italian-born American actor, comedian, film critic, internet personality, reviewer, filmmaker, and illustrator, best known for and creating and portraying the character of the
Nostalgia Critic
in the web series of the same name.
In the Fiction Wrestling Multiverse, Critic is currently signed to Fiction Wrestling Entertainment and Northern Carnage Wrestling, where he serves as the color commentator.
Background
Edit
Series: The Nostalgia Critic
Species: Human
Age: 35
Height: 5'10"
Weight: TBD
Debut: 2007
Status: Active
Billed from: Chicago, Illinois
Allies: N/A
Rivals: Joey Styles, The Tenth Doctor, Black Mage, James Rolfe
Twitter: @NostalgiaCritic
Professional Wrestling Career
Edit
Fiction Wrestling Entertainment Edit
Debut (2007) Edit
Northern Championship/Carnage Wrestling (2013–present) Edit
The Critic started in NCW on September 28, 2013, right after WrestleWars, becoming NCW's color commentator and slightly taking some pressure off of Joey Styles, who had been NCW's only commentator since May. However, Critic quickly began to critizing various wrestlers and giving outburst on how he is dragged down by Joey. His various rants during the show introductions have become famous; in particular, at the One Year Anniversary Show, Critic snapped on Joey after he felt Joey was trying to replace him when the Tenth Doctor debuted as NCW's third commentator. This pushed Critic to created the now famous quote, "Great, now I got a nerd to my left and an alien to my right..."
Critic would later leave the table for part of the show and got himself fish fingers and custard, which resulted in another iconic moment where he mistakenly though fish fingers and custard were the Tenth Doctor's favorite food, when, in fact, they were the Eleventh Doctor's favorite. Critic quickly shrugged, however, and ended up shoving one down The Tenth Doctor's throat and then one down Joey Styles' throat. Since then, all three have been commentating on NCW Prime and on pay-per-view. While Joey tries to keep commentating, Critic constantly insults and bickers with The Doctor during matches, usually getting met with the Tenth Doctor's humor.
In Wrestling
Edit
Critic never lets his guard down, and usually fights using a technical style, even if he has shown numerous shades of hardcore wrestling during his career.
Finishing moves
Edit
Glassbreaker (Fireman's Carry Neckbreaker)
Nostalgia Driver (Fisherman Driver)
Signature moves
Edit
Swinging Russian Legsweep
Springboard DDT
Entrance themes
Edit
"The Review Must Go On" by Unknown Artist (2012 - Present) (NCW)
"The Show Must Go On" by Queen (2007 - 2013) (FWE)
"We're Finally Cowboys" by Masafumi Takada and Jun Fukuda (2013 - Present) (FWE)
Championships and Accomplishments
Edit
Fiction Wrestling Entertainment Edit
Critic holds the record for most reigns as FWE Intercontinental Champion at seven.